Topic: I Blame Duane for my new purchase! ;)
So unless you load a third party software update, you are unable to get your weather fix on the Chumby. So today I bought a Pebble watch. https://getpebble.com/
It integrates with my cell phone and I am able to get all the weather info I need at a glance. In fact it travels with me too!
Here are a few samples of many apps for weather on the watch.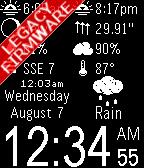 or this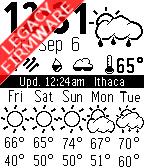 Yes this is what the display looks like.
It will also display your texts and control your music.
Oh yeah, just like the Chumby, it can inform you of the time too.